Custom Latex Balloons Printed Fast
Your logo printed custom latex balloons help you effectively get your message across. They are excellent promotional tools and have an enormous positive impact on your target market.
No matter your event, custom balloons can fit perfectly with the atmosphere. Whether you are organizing a conference, fundraising gala, awareness campaign, promotional or corporate event, or a more personal kind of special occasion, you can trust that custom printed latex balloons will get noticed.
We take great care in printing your logo too. Our printing technology is the best in the industry.
Call us now at 1-888-950-7878. and email your logo file so we can prepare free proofs to show you what your custom balloons will look like.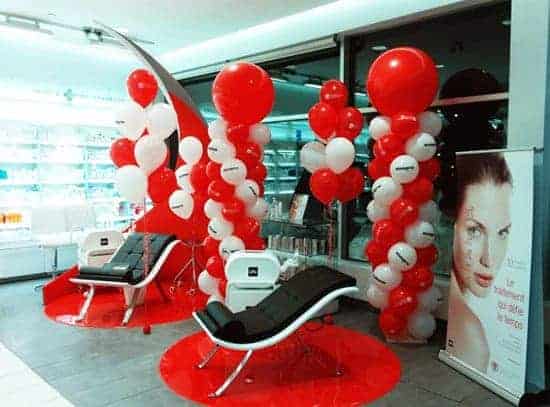 Call us now at 1-888-950-7878.
We will be happy to provide ideas and free proofs for your custom printed balloons today.
CSA Balloons – Leader in Printing Custom Latex Balloons
Our balloon printing company has led the market in printing latex balloons for over 15 years. Our proprietary screen printed technology, modern facilities and expert staff make us the right choice for your custom printed balloon requirements.
We take pride in our attention to detail, accuracy, and size of prints. We make balloons that will last long after your event is over.
Made from natural and biodegradable latex, our printed balloons are renowned for their superior quality. They're eco-friendly too, so hand them out without hurting the planet.
Please call us now at1-888-950-7878 to get started printing custom latex balloons for your company or event. You can also use the Quick Quote form to send us your logo now so we can prepare proofs and confirm costs ASAP.
Customers love our balloons and yours will too!
Who Prints Latex Balloons? – CSA Balloons
If you were considering printing your latex balloons anywhere else, think again – as no-one does it better than us. In the latex balloon printing video you can see how we use a high ink throughput screen printing method to place high resolution logos on inflated latex balloons – at a good rate of speed.
We inflate the balloons prior to printing so that the image will not be overly stretched when you inflate your balloons.
We deflate them for shipping. For example, 1000 balloons is about 8 pounds and fits in a cubic foot box that UPS is happy to deliver direct to your door.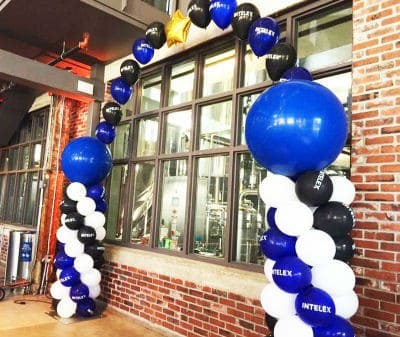 Call us now at 1-888-950-7878.
We will be happy to provide ideas and free proofs for your custom printed balloons today.
How We Print Latex Balloons
Great Balloons | Great Service | Printed Fast
Some of the Many Uses for Custom Printed Latex Balloons
Latex balloons are printed with company logos, personal photos, promotional messages, wedding invitations, jokes, people's faces, and many, many more different type of images and text.
We do it all when it comes to making printed latex balloons into your floating billboards. Please see some detail below on the types of latex balloons we have produced for customers like you.
Balloons make your special event a memorable event. With so many styles and colors to choose from, our balloons can match any decor.
When you are ready to get started with your order, please send us your logo file and we will make electronic proofs and email them back to you so you can see what your balloons will look like before you confirm your order. Thanks.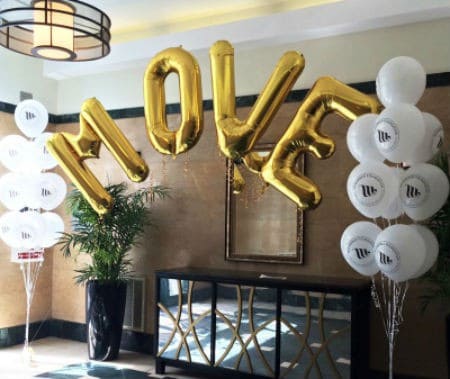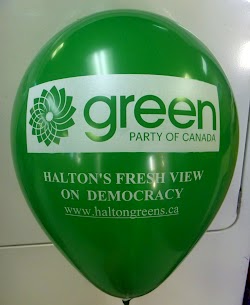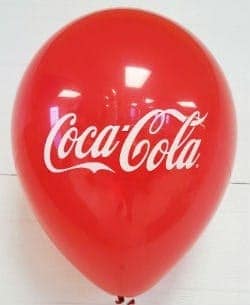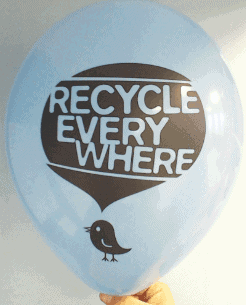 Campaign Balloons
No election campaign is complete without a dedicated official campaign balloon. We print balloons for Presidents and Sheriffs; Prime Ministers and MLA's. We have served as part of the electoral process in every state of the union, and in all Canadian provinces. Although the don't like to admit it, we have even printed biodegradable latex balloons for the Green Party of Canada.
Logo Balloons
The most common type of order we produce in quantities of 100 to 100,000 units is logo printed balloons for promotional use. The brands that use our services include almost all of the one that you see around you on a daily basis – Coca-Cola, Dove and Samsung are among our better known clients.
Check the gallery page to see some more photos of latex balloons we have printed with company logos.
Message Balloons
The variety of custom latex balloons printed in our shop over the years is incredible. Some of the more fun types of balloon printing jobs are customized event balloons. We have printed 1000 latex balloons destined for a massive water balloon fight (war – more like), as well as balloons with cryptic messages for scavenger hunts.
Latex balloons are printed with people's names to act as table placeholders and other unique applications. Keep in mind that the price for a single custom balloon is about the same as the price for 100. We are happy to print any quantity, but understand that the unit cost is higher at smaller quantities.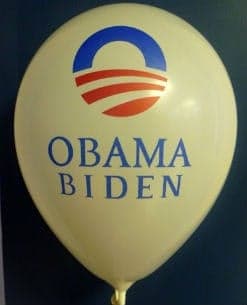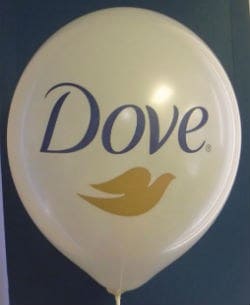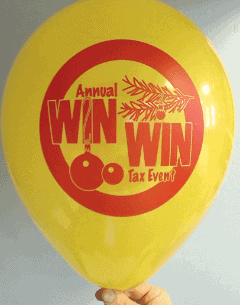 The foil balloons looked fantastic and were here a day early despite the last minute order. THANK YOU THANK YOU for all of your help. I'll be sure to post something about CSA balloons on my page! Looking forward to working together with you again in the future. Have a great day

Connecticut Balloon Creations

Many thanks for your ongoing support and incredible service

William F. White International Inc.

It was a pleasure to work with CSA, they have been extremely effective! Thank you!

In.Press Association Marketing HEC Montréal

Non-Profit Latex Balloons
Every year we print literally a million balloons for non-profit organizations. Clients include the Breast Cancer Society, LEUCAN (fights pediatric leukemia), the Red Door family shelter, Knockdown Cancer campaign (with the Bowling Association), and the Walk for the Fallen with the US Armed Services.
Latex balloons are chosen by charities and not for profit organizations and associations as a relatively inexpensive and highly effective way to get the message out. Balloons with a printed message cost as little as fifteen cents each when printed in larger quantities – and the impact is high. People relate to balloons on an emotional level and differently than other media – where they may simple ignore much of what is presented. No-one ignores a free balloon.

Latex Photo Balloons
The latex photo printed balloon is a popular item for parties and personal events – and sometimes for political rallies. If you can email us a high-resolution photo of the subject's face our designer will create a screen-printable version composed of thousands and thousands of tiny dots.
The results are incredible – and everyone loves photo balloons printed on or biodegradable natural latex product.

Save the Date Balloons
Brides to be call us every day for save the date balloons. The fashion in many circles seems be for inflatable save-the-date messages, and we are happy to oblige. Our designer has a variety of standard layouts that we have developed to convey the message while maximizing the use of the imprintable area on the latex balloons.
Give us a call at 1-888-950-7878 or send us your save the date details so we can prepare proofs to show you how your balloons will look. Thanks!
Standard Balloon Colors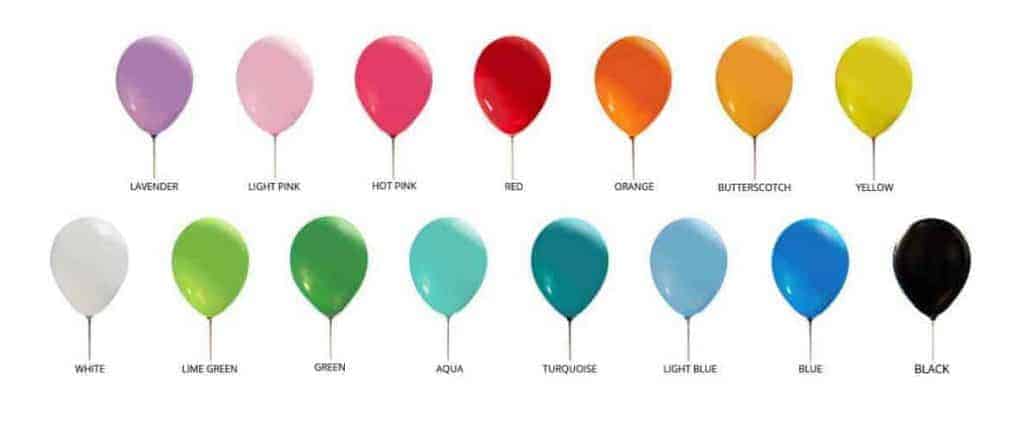 Crystal Balloon Colors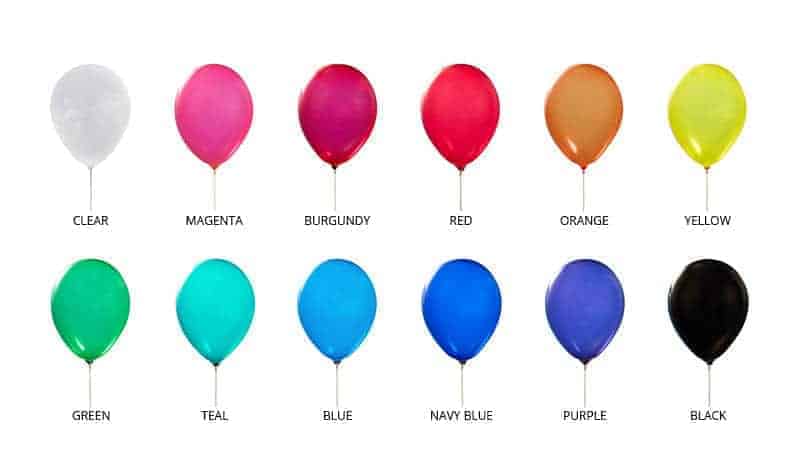 Metallic Balloon Colors