Top 3 Reasons to Choose CSA Balloons
It is always best to employ a professional when searching for a quality product. CSA Balloons is a well-known and well-reputed custom balloon printer. In this article, it will be explained why CSA Balloons in the perfect choice for the creation of your promotional tools.
1. Customer Service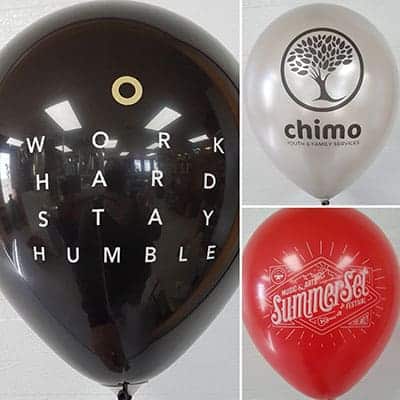 We are staffed by professional, dedicated and well-trained employees. They have experience in the specific industry of custom printed balloons, making our company efficient and organized. Customers are sure to have an unparalleled experience when it comes to ordering their custom promotional tools.
We can send client proofs as quickly as one hour after you have placed your order. You can choose to order online, or call us at 1-888-950-7878 to reach one of our employees and receive specialized service. We can set you up with a professional artist who will help create your balloon's artwork. We can help you create your logo design and color scheme. We can also help you choose your means of distribution and look through decor options. If necessary, we can even provide same day shipping.
Many a satisfied customer has thanked CSA Balloons for our customer service, such as this testimonial, "Many thanks for your ongoing support and incredible service."
2. Quality of Balloons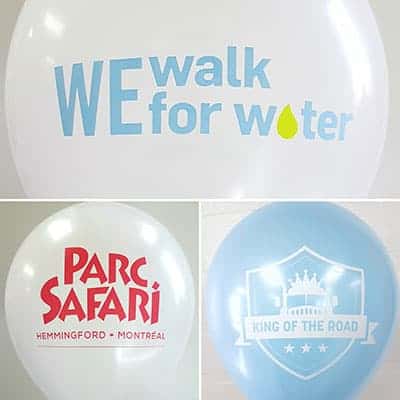 CSA Balloons has been in business for twenty years now, so we are pros at creating custom balloons. We have high-tech equipment which allows us to provide high-quality balloons to all of our clients. Additionally, using the Pantone Color System, we can ensure that your color is just as you imagined it. This system improves printing accuracies and provides the best results.
We can print one-sided, double-sided, single-colored, double-colored and multi-colored. Our representatives can help you choose your perfect color pairing. We have multiple sizes available, customizable to what you, the valued customer, has in mind.
Balloons from our company are also simple to inflate. Hi-Float is the substance used by our company to ensure longer floating times. It is a liquid patented solution that is inserted inside your latex balloon. A single squirt inside the balloon keeps it floating longer – up to 25 times longer! It is safe, non-toxic and biodegradable, and is trusted by professional party planners.
As said by an appreciative client, "I just wanted to pass on our appreciation for the quick and great work CSA Balloons did for our balloons. We received them yesterday and they're perfect! We will be ordering from you again."
3. Decor Services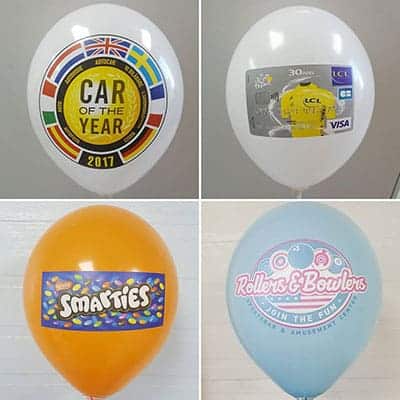 CSA Balloons is dedicated to perfecting your company's event. If you are based in a major American or Canadian city, CSA Balloons provides decor services. If this is what you request, we will not only print your balloons, but inflate them, set them up at your event, and give them out. We can create a balloon display or find creative ways to have them distributed.
A company reviewed our decor services, saying, "The balloons were fantastic and they were very popular at the festival! CSA Balloons demonstrated great expertise. I will definitely refer you to our partners."
We are committed to delivering a quality experience as well as a quality product. We won't just customize your balloon with your logo, but provide expert decor services.
Trust Us for Service, Quality and Decor
We are the right choice for your custom balloons thanks to our outstanding customer service, the quality of our printer balloons, and our decor services. Read some of our testimonials to see just how much we are appreciated by our clients, confirming our dedication.
Order from CSA Balloons today online or by calling 1-888-950-7878.