Custom Printed Balloons Arches Mark Canadian Tire Grand Re-opening
CSA Custom Printed Balloons Highlight Canadian Tire Store Grand Re-Opening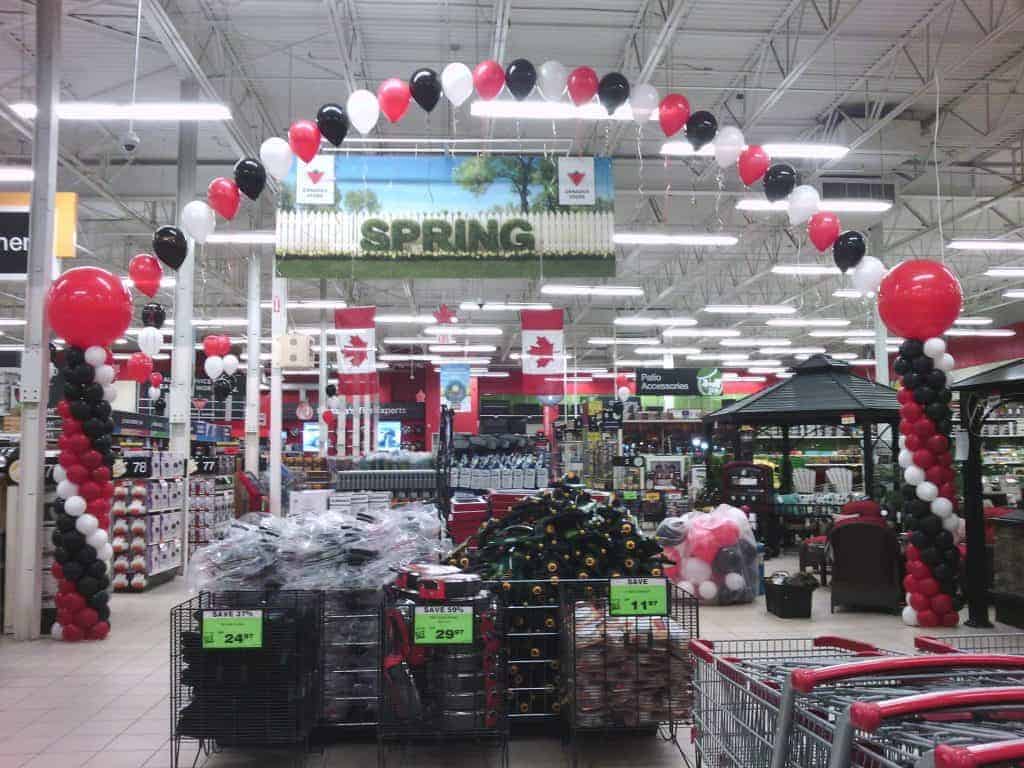 There aren't too many better ways to draw attention to your store and create excitement than arches created from custom printed balloons, so it's no surprise that Canadian Tire chose to use custom printed balloons for their latest grand re-opening.
A store's re-opening is an important event. The goal of these moments is to generate excitement and buzz about the store. It's also key to showcase the importance of the moment and to truly make the day special. This increases the attention that customers will give your re-opening while also making the occasion more memorable and special.
CSA Balloons knows that promotional opportunities need to have a special something in order to make them stand out. That's why, for the recent Canadian Tire store re-opening celebration, we created a series of spectacular displays made from custom printed balloons, including giant custom balloons and beautiful arches.
All balloons were designed in store colours to match the branding of the property and truly tie the event together.
Working with CSA Balloons for Custom Printed Balloons
When you work with the talented and professional team at CSA Balloons, you are working with an experienced and dedicated company that understands branding, promotion and how to attract attention to store openings as well as corporate events, promotional gatherings, celebrations and a wide variety of other occasions.
We also know how important it is to work with a company that understands customer service and getting the job done right the first time. In all of our years of service, we have worked with some of North America's biggest companies to produce custom printed balloons and balloon installations that dazzle and delight. We aim to increase the profile of your event by offering the exact services that you need.
We work directly with your company to fully understand your brand and the purpose of your event and then create the exact custom printed balloons that you're looking for. You can trust the dedicated and professional team at CSA Balloons to provide you with exactly what you need. Contact us today for more details or to speak with a member of our team about your upcoming event.