Using Pantone Colors in Balloon Printing
Pantone Colors allow you to effectively keep your company's logo color consistent through all forms of production, printing and manufacturing.
Pantone Colors are a vital part of the balloon printing business that help us create the correct color for your logo, with some small variation based on the color or material of the balloon.
Pantone Colors in Balloon Printing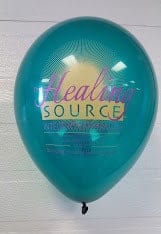 Pantone Colors are important to replicate your company's logo correctly on your promotional item. We are dedicated to providing the most consistent personalized logo balloons possible for your business.
To achieve this, we use the Pantone Color System. This system allows us to communicate with you easily and efficiently and to successfully create your unique logo using the color identified with your branding.
As mentioned on the Pantone Colors official website, using the correct color can boost brand recognition up to 87%, and help sell products more efficiently, up to 85% better. To ensure that these statistics become a reality with your custom balloons, Pantone Colors are used to guide our printing process.
Mixing Pantone Colors
To achieve that perfect shade representative of your company's branding, we can mix ink in any Pantone Color needed so that your brand image can be replicated across your promotional items.
Mixing Pantone Color shades is only $29. This inexpensive price also allows great payoff, with your logo being instantly recognizable, which creates associations and triggers memories, helping your company gain more clients and attract attention.
We have a qualified and professional staff who are experts in creating the very best results when using color mixing of Pantone Colors. Contact us today to get a free quote.
Balloon Color Assortments and Pantone Colors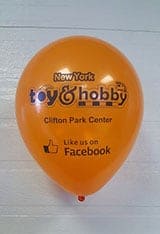 CSA Balloons offers many different balloon color assortments with both latex and mylar balloons. Latex balloons also have different finishes which can be used to customize your promotional product's overall look.
Latex balloons have standard, crystal and metallic finishes, each one with distinct colors. When choosing a color and finish for your balloon, it is important to keep in mind how it will match with the logo being printed on it.
One of your worries concerning this might be if the color of the logo will look different on your balloon because of the material, finish and color. You should expect some variation in the appearance of the inflated balloons based on the balloon color. Out team can actually make small adjustments in the ink color to compensate for the background – but when printing you logo on multiple balloon colors there will be some variation.
The digital tools and physical color preferences used in the Pantone Color System make it possible to achieve a consistent color payoff, all helpful in the creation of custom balloons.
Pantone Colors to Achieve the Best Result
When logo printing on promotional products, it is crucial that your brand's logo is the same as how it is in all your marketing.
When ordering custom printed balloons from CSA Balloons, Pantone Colors allows you to communicate effectively with us the shade and tone desired for your unique branding.
Your personalized balloons will then have your company's recognizable colors through color coordination and a universal color language. Order from CSA Balloons today to create your very own logo balloons.